On July 28, 2022, Wuxi Shentai New Energy Technology Co., Ltd. successfully completed the distributed photovoltaic project of Jiangsu Yuanqing Power Technology Co., Ltd. and successfully connected to the grid. The required installed capacity of this project is 366kWp. In fact, 666 550W modules of Suntech Single Crystal are installed, 366.3kWp in total.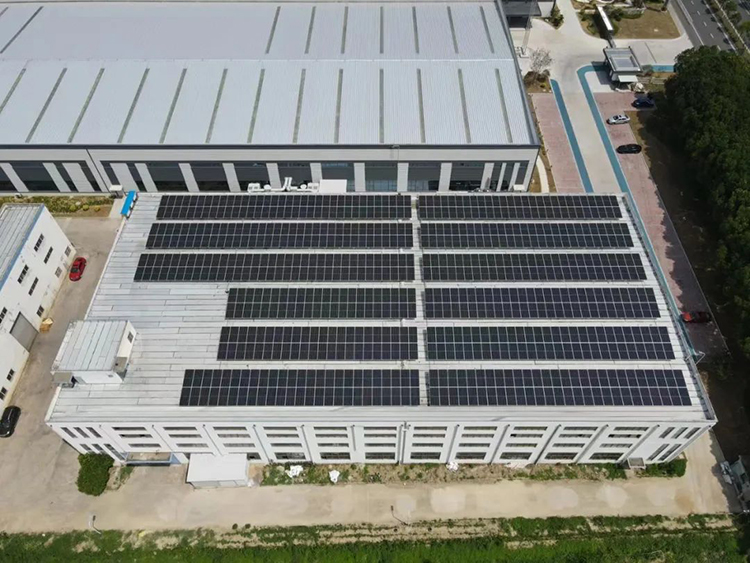 * The picture is an aerial view of the project as built
The project will officially enter the construction site on June 20, 2022.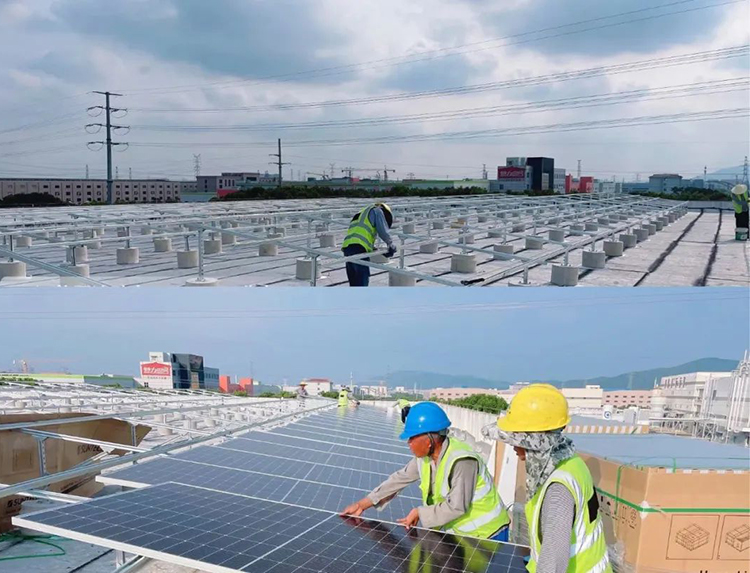 * The picture shows that the project is under construction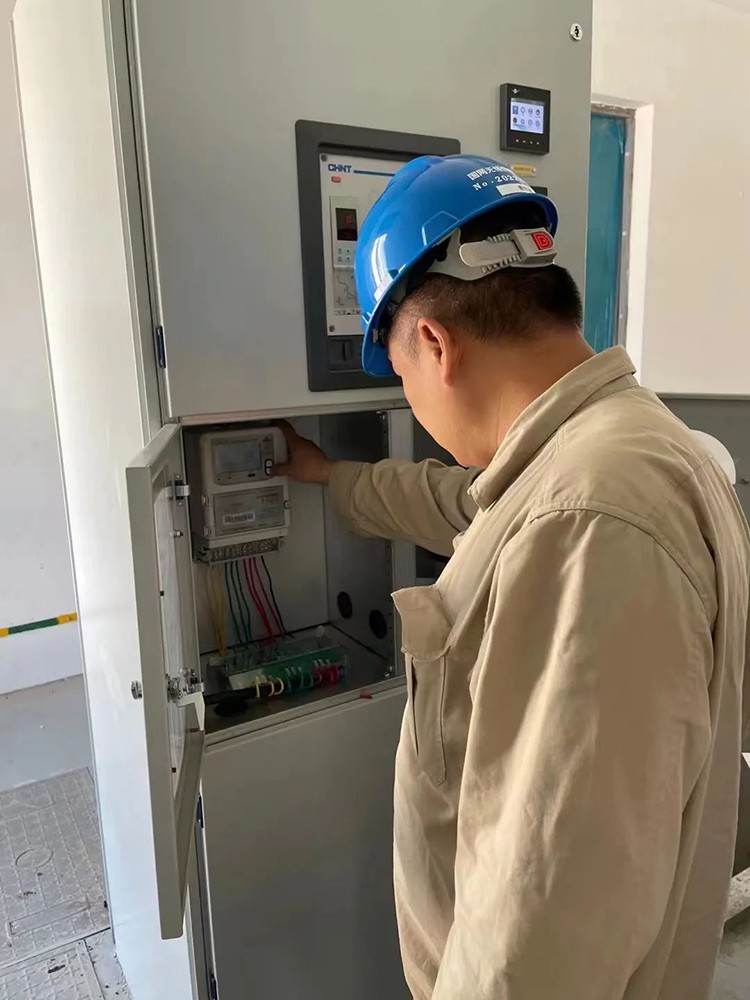 * The figure shows that the grid staff went to the site to check the power generation of the photovoltaic system
After more than a month of hard work, the project was finally connected to the grid on July 28, 2022, despite the scorching summer sun. After the construction of the project, the average annual power generation is 361200 kWh, and the service life can reach 25 years. The 25 year life cycle can generate about 9 million kilowatt hours of electricity, reduce the burning of 130 tons of standard coal every year, and reduce the emission of 360 tons of carbon dioxide. In addition to its own use, the power generated after grid connection can also increase additional revenue for customers every year.
【Introduction to Yuanqing Power】
Jiangsu Yuanqing Power Technology Co., Ltd. is an industrialized company incubated by the Gas Turbine Maintenance Engineering Technology Center (hereinafter referred to as the "Engineering Center") of Wuxi Institute of Applied Technology, Tsinghua University. Yuanqing Power is a company specializing in precision machining, drilling (laser, EDM) and thermal spraying (HVOF, APS) of high-temperature thermal channel components of aeroengines and gas turbines. The company has MAGERLE five axis precision grinder, OERLIKON's HVOF/APS thermal spraying equipment, DMG's laser drilling equipment, SCHMALZ vacuum furnace, gas phase aluminizing furnace, CVD, cathodic arc plating and other professional processing equipment; It has FPI fluorescent penetrant testing equipment, ATOS blue light scanner, ZEISS ACCURA high-precision CMM and other professional testing equipment. The core team of the company has more than 10 years of working experience in the gas turbine industry on average, mainly engaged in engineering design, failure analysis, component life management, supply chain development and management, key component manufacturing and repair, component test platform construction and other businesses.
[1] Qian Yuanji, CEO, graduated from the Department of Thermal Energy of Tsinghua University in June 2007 with a doctorate in engineering. From June to October 2007, worked in the Science and Technology Development Department of Tsinghua University; From October 2007 to March 2012, served as the director of the Industrial Investment Division of Wuxi Economic and Information Commission of Jiangsu Province; From March 2012 to December 2018, served as the general manager of Jiangsu Yonghan Special Alloy Technology Co., Ltd; From December 2018, served as the director of the Gas Turbine Maintenance Engineering Technology Center of Wuxi Institute of Applied Technology, Tsinghua University; In July 2019, he founded Jiangsu Yuanqing Power Technology Co., Ltd. and served as the executive director.
【About us】
Wuxi Shentai New Energy Technology Co., Ltd. (hereinafter referred to as Shentai New Energy), founded in 2016 and located in Wuxi, Jiangsu, the birthplace of the domestic solar photovoltaic industry, is a high-tech enterprise integrating independent research and development, production, sales and services based on new energy photovoltaic power generation and energy storage business, with new building prefabricated houses and new agricultural distributed planting business as strategic reserves, It is committed to providing global users with the overall solution of full life cycle smart energy, smart buildings and smart planting. The company has obtained TUV/CE/ISO and other international certification and domestic intellectual property implementation system certification; It has applied for more than 30 invention patents, integrated circuit layout and soft works, and more than 50 domestic and foreign trademarks and copyrights; It has won the qualification honors of "High tech Enterprise"/"Jiangsu Private Science and Technology Enterprise"/"Small and Medium sized Technological Enterprise"/"Three Kinds of Young Eagle Enterprise".
While increasing its investment in research and development, the company has also actively strengthened cooperation with universities, research institutions and high-tech companies in industry, education and research. At present, the company has successively carried out project cooperation with Jiangsu Academy of Agricultural Sciences, Nanjing Agricultural University, Jiangnan University, etc., and actively participated in the preparation of local standards in relevant industry segments.
The company has rich experience in the development and implementation of new energy projects at home and abroad, as well as overseas export business. Its overseas markets cover North America/Europe/Australia/Southeast Asia/the Middle East, etc. At present, its products and services cover more than 20 countries and regions, including the United States/Canada/Australia/Germany/Spain/Poland/Netherlands/Cyprus/Indonesia/Vietnam/Jordan.
Committed to the design, construction, operation and maintenance of new energy industry, distributed photovoltaic power generation/energy storage power station/off grid system and other projects; R&D, production and sales of PV/PVT thermoelectric/application system products; Design, production, sales and implementation of lithium battery household energy storage products and projects;
Committed to the new building industry, develop and design energy-saving and environment-friendly/intelligent/integrated assembly buildings, and their supporting materials and smart homes; R&D, production and sales of solar island shelter;
Committed to the development, implementation and operation of new agricultural industry, new photovoltaic agriculture/distributed shelter planting and other projects;
Brand system:
Yuanshentai ®, Shentai Zhijia ® , Shentai Zhitong ® , Shentai Intelligent Cabin ® , Shen Taizhigeng ® , Shentai Lixiang ® , Shentai Xinneng TM