From July 23 to 25, the 2022 17th China (Jinan) International Solar Energy Utilization Conference and China (Shandong) International New Energy Industry Expo will be held in Jinan Hi tech International Convention and Exhibition Center, Shandong Province. As a domestic photovoltaic exhibition, there are a large number of people at the exhibition site in Jinan every year. The professional giants in the photovoltaic industry, such as distributors, engineers, developers, investment and financing units, and factories, gather here to participate in the grand event, exhibit products, and jointly discuss the product trends and future development prospects of the new energy industry.
As a photovoltaic module manufacturer, energy storage battery manufacturer and photovoltaic system integrator for more than 15 years, Sarkot New Energy Technology Co., Ltd. has been preparing and will meet you at booth 2BT58 of the exhibition. Show us our brand advantages and good competitiveness.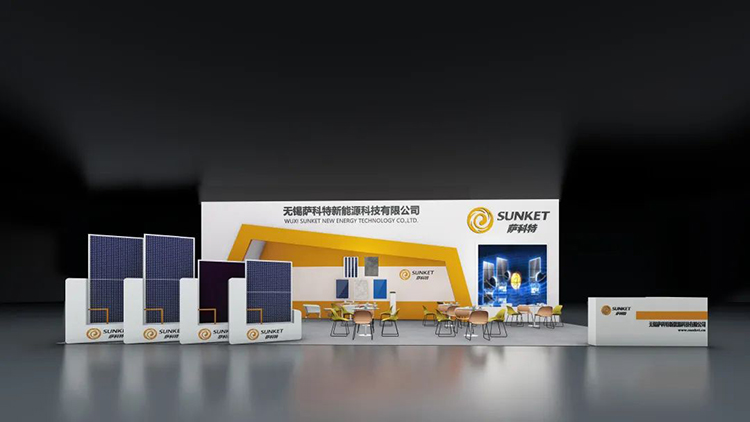 Always adhering to the tenet of "customer satisfaction, quality and pursuit", the Sarkot team has continuously innovated product technology, improved product quality and core competitiveness, increased product quality and efficiency, and provided more reliable and clean energy for customers at home and abroad.
Wuxi Sarkot, optical storage integration integrator
Wuxi Sunket New Energy Co., Ltd. ("Sunket New Energy"), the brand, was established in 2007. The company's production base covers an area of 200 mu, with a total investment of more than 600 million yuan. At present, the annual production capacity of the fully automatic production line of photovoltaic modules exceeds 2GW, and the annual production capacity of energy storage batteries is 1GWH. It has more than 15 years of experience in the research, development, production and sales of solar modules, energy storage batteries and systems. With the mission of "sharing and surpassing green energy", we are committed to the global supply of solar photovoltaic modules and photovoltaic power generation system energy storage products, and provide one-stop solutions for consultation, design, construction, operation and maintenance.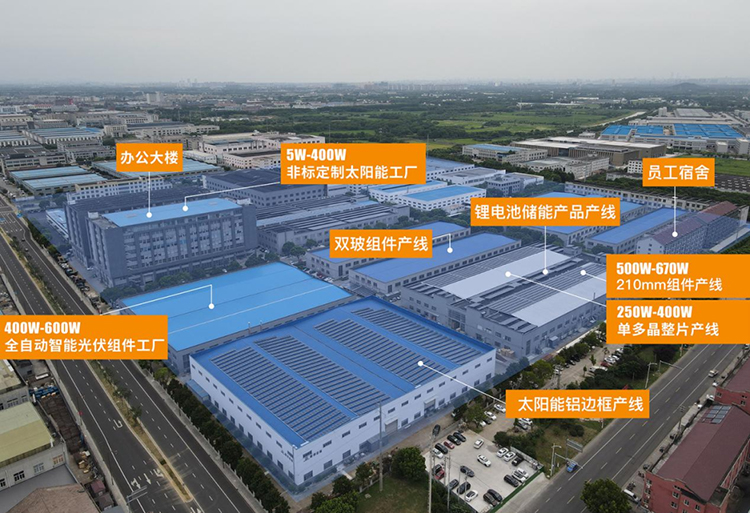 At present, the company's products mainly include 166/182/210mm single crystal solar photovoltaic modules, photovoltaic hybrid grid system, lithium battery energy storage products, etc!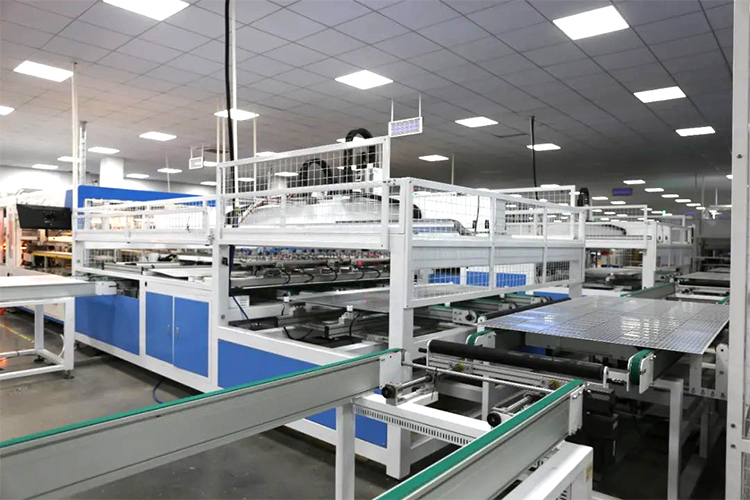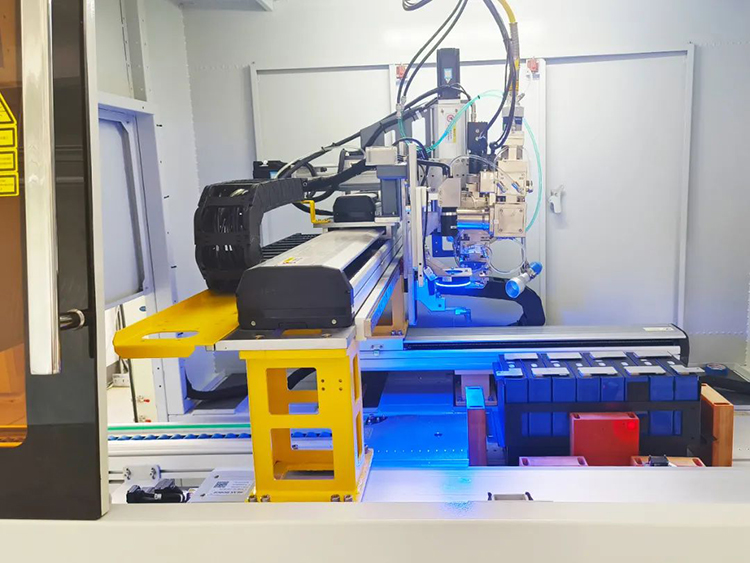 Our products have passed ISO9001 quality management system certification, ISO14001 environmental management system certification, OHSAS18001 occupational health and safety system certification, TUV, IEC, CE, INMETRO, CEC, CSA, JP-AC, RETIE, DEWA, CQC Golden Sun and other international and domestic authoritative product certification. With preferential prices and excellent quality, the products are sold to more than 100 countries in Europe, America, Asia, Africa and Latin America, providing people around the world with green energy solutions.

Booth 2BT58, flagship exhibits
1.210mm 670W single crystal photovoltaic module
●Battery piece: 210mm 132 piece string
●Component size: 2384 × one thousand three hundred and three × 35mm
●Efficiency: 21.6%
●Advantages: 210 large size silicon chip modules, with power entering the 600W+era, half chip technology+12BB multi main gate technology, reduce the current passing through each main gate, reduce power loss, effectively reduce shadow shielding loss, low operating temperature, and high output power. It is applicable to large ground power stations, reducing the cost of kilowatt hour electricity and bringing higher power generation income.
210mm 670W assembly
2.182mm 550W single crystal photovoltaic module
●Battery piece: 182mm 144 piece string
●Component size: 2278 × one thousand one hundred and thirty-four × 35mm
●Efficiency: 20.9%
●Advantages: 182mm 550W high power components, giving consideration to high power, high reliability and high feasibility. The M10 high-efficiency single crystal battery chip is used. The design of half chip technology+10/11 main grid and round welding strip further reduces the spacing between main grid and fine grid, reduces current loss, power loss, shadow shielding loss, low operating temperature and high output power. 20.9% mass production module conversion efficiency, high power generation, reasonable labor cost, transportation cost and other advantages have become the optimization scheme of low electricity cost in the market, perfectly matching industrial and commercial photovoltaic and ground power stations.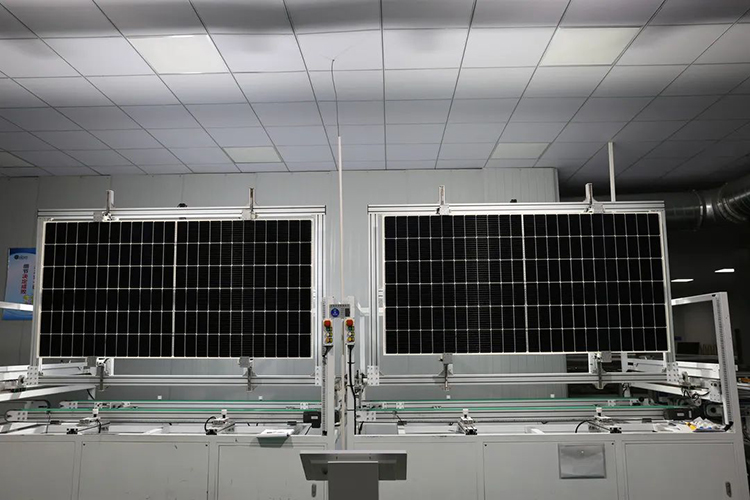 182mm 550W assembly
3. 166mm 470W HJT heterojunction double glass double-sided single crystal photovoltaic module
●Battery piece: 166mm 144 piece string
●Component size: 2094 * 1038 * 30mm
●Efficiency: 21.6%
●Advantages: HJT N type 470W double glass double-sided components ensure that more than 90% of the power generation efficiency will remain after 30 years. It has higher battery conversion efficiency, lower power attenuation, potential free induced attenuation PID and light induced attenuation LID. The temperature coefficient is low, the weak light power generation effect is better, and the double-sided ratio is high. The back side can achieve more than 90% of the power generation power of the front side, and the front and back sides have no color difference, which is widely popular. Advanced heterostructure technology can achieve lower cost per kilowatt hour of power generation, faster payback period and greater income.
166mm HJT 470W group file
4. BIPV products:
Wuxi Sarkot has also brought BIPV products that are very popular in the market this time. The series of green bricks and colored glasses of colored crystalline silicon photovoltaic green building materials designed and produced based on optical nano coating technology has innovated the artistic expression of green building materials; The curved crystal silicon photovoltaic tile "Daiwa" based on international high-performance flexible technology fills the gap of curved crystal silicon products. The products beautify the urban environment from the aspects of appearance, color, texture, modeling, etc., and are known as "urban architectural beauticians who can generate electricity".
1. Glaze
Colorful crystalline silicon photovoltaic green building materials, integrating artistic and non-toxic and environment-friendly power generation functions, make the building more colorful and modern. Colored glass adopts hidden photovoltaic power generation. High efficiency photovoltaic cell+optical nano coating technology makes the appearance color of the product more uniform and bright. The light transmittance of the film layer is increased by 60%, and the power generation power of the product is increased by more than 15%. The color can remain unchanged outdoors for a long time.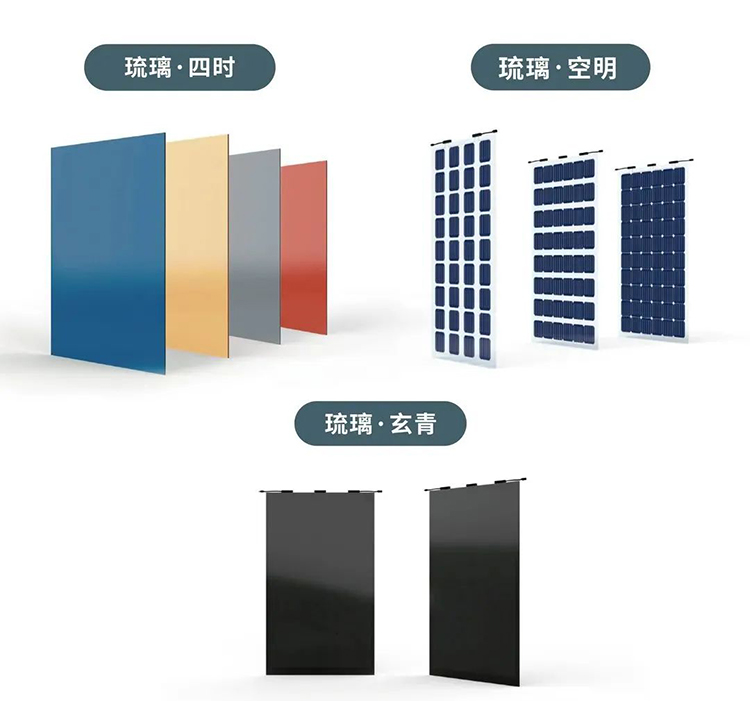 Building grade packaging materials, with the same life span as buildings, have special properties such as penetration resistance, high and low temperature impact resistance, sound insulation, heat insulation, ultraviolet protection, high and low temperature climate resistance, etc; The special surface structure and low reflection design can reduce light pollution, and the flatness is better than that of aluminum curtain wall; It adopts building level multi-layer structure, sound insulation and impact resistance, with 6000Pa compression resistance and super wind load resistance; It matches the size of building materials, and has flexible customizable size, with an area of up to 6 square meters. Colored glass can be applied to lighting roofs, lighting windows, and building curtain walls. The battery arrangement has the characteristics of large spacing, which can solve the different requirements of buildings for light transmission.
2. Dewar
Creatively combine photovoltaic power generation technology with new tiles, and design them into power generating tiles, which can not only play the role of traditional tiles, but also have the function of power generation. It is an organic combination of modern high-tech and traditional architectural culture.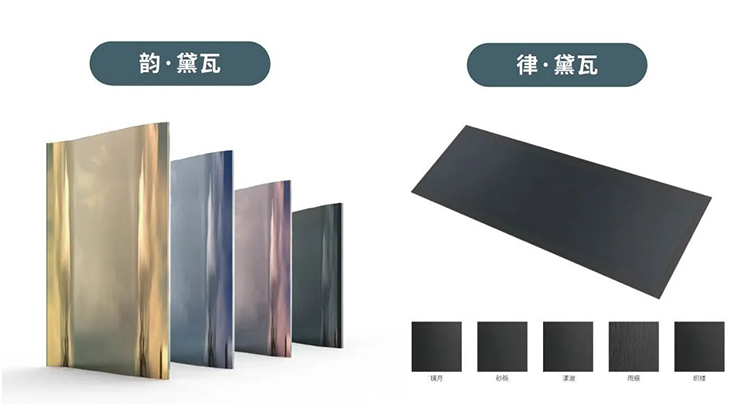 The integrated design of DEWACO and the roof perfectly matches the original roof. The special texture design of the surface effectively prevents light pollution and makes the building more beautiful. Modular design and installation, saving more time and labor, saving more than 50% of working hours.
The surface strength of the black tile is 3 times that of the ordinary tile, and the performance of fire prevention, waterproof, heat preservation, heat insulation and ultraviolet protection is superior. It can be used for new Chinese buildings, energy-saving transformation of traditional buildings, construction of beautiful rural towns, characteristic towns, villas, etc.
3. Green brick
Photovoltaic green building materials with imitated stone texture are based on ancient Chinese blue bricks and incorporate modern photovoltaic science and technology into Chinese traditional culture.
The shape and color of green bricks break through the traditional PV module design, and special masonry glass is used to make the product texture diverse and durable. High efficiency photovoltaic cells+nano optical film structure can perfectly hide the battery; The mainstream texture of the building materials market is preferred, which is low in reflection and easy to clean, and the high-strength lightweight building materials are corrosion-resistant; The building packaging materials used can have the same service life as the building, with excellent thermal insulation; The form of bonding the attached frame behind the component is adopted. The attached frame is hung on the main frame of the wall through angle steel and pendant, so that the frame structure is completely hidden behind the product, without affecting the appearance.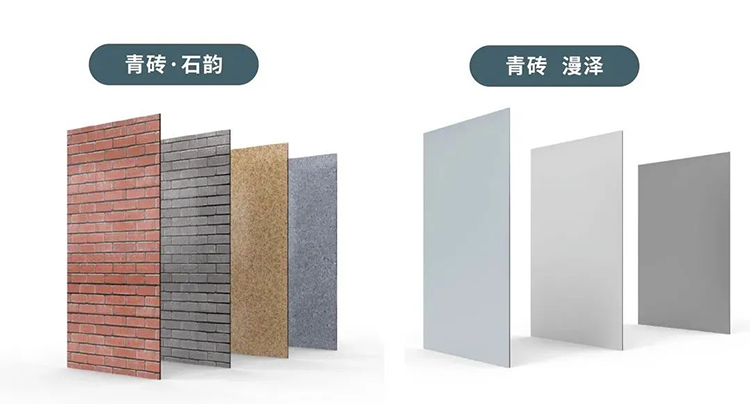 The black brick can be used as a new type of exterior wall material. It is corrosion resistant, fadeless, easy to clean, light in weight, and hook mounted. It avoids the traditional stone cutting and polishing process on site, has no dust pollution, saves materials, and has aesthetic and practical functions.
Wuxi Sarkot has always been committed to becoming a diversified, large-scale and international professional green energy supplier, providing one-stop services and solutions for global customers in the field of solar photovoltaic.